In football-mad Argentina, fans are known for belting out an almost amorous chant to their favourite clubs: "I carry you inside me!"
First-division side Tigre said it had decided to take that to the next level and is offering fans implantable microchips that will open the stadium turnstiles on match days, no ticket or ID required.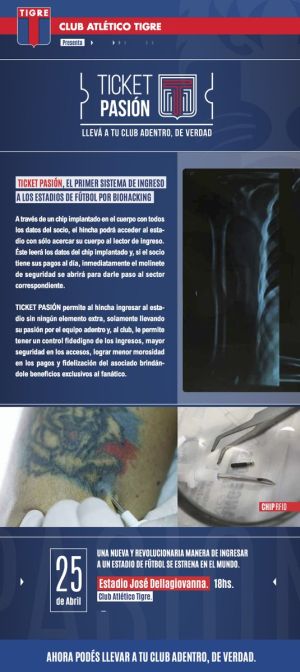 "Carrying the club inside you won't just be a metaphor," the club wrote on its Twitter account.
Tigre secretary general Ezequiel Rocino kicked things off by getting one of the microchips implanted in his arm, under an already existing tattoo in the blue and red of the club.
The chips are similar to the ones dog and cat owners can have implanted in their pets in case they get lost.
Rocino showed off the technology for journalists, placing his arm near a scanner to open the turnstile to the club's stadium 30 kilometres north of the capital, Buenos Aires.
"The scanner will read the data on the implanted chip, and if the club member is up-to-date on his payments, will immediately open the security turnstile," the club said.
Rocino said getting a chip would be completely voluntary.
"We're not doing anything invasive, just accelerating access. There's no GPS tracker, just the member's data," he said.
We are aware that this move by the Tigre fans  has potential to go viral and more different fans to start the same practice, so we like to start the debate about using of this technology for this kind of purpose. We can expect soon even different group of people like club members or even gang members to start implanting microchips to show their loyalty or membership.